Order Information

Simple Order Procedure:

Quick Shipment: Normally the goods arrive within 7 days. If some items are temporarily out of stock, we will inform you accordingly.

Fair Prices: Our prices indicated in British Pound (GBP) are applicable to shipments to the United Kingdom only. Those in Euro (EUR) apply to all European Countries except the U.K., the U.S.Dollar (USD) prices apply to U.S. destinations as well as the rest of the world. Where applicable, our prices include VAT.

Small or Zero Shipping Charges: We do not charge for shipments within the European Union, to the United States, Canada, Australia, and to Switzerland. Except: A small shipping charge not exceeding GBP 3.50 EUR 5.00 USD 5.00 will be added to orders that amount to less than GBP 12.90 EUR 18.50 USD 18.50, and in case of cash-on-delivery payment, the C.O.D. charges mentioned below. For all other destinations we will pass on the accruing shipping charges.

Easy Payment:

1)
Credit card: we are accepting the following major credit cards
VISA (including Verified by VISA)
MASTERCARD (including MASTERCARD Secure Code)
AMERICAN EXPRESS
DINERS CLUB
What's that, the CVC code? It's the three last digits of the number on the backside of your card, or, in case of AMERICAN EXPRESS, the small 4-digit number above the card number.
2)
PayPal: benefit from safety and buyer protection of the leading internet payment solution.
3)
Cash-on-delivery: the postman collects the amount at handing out the goods. Please note that there are some countries where this is not possible (e.g. the United Kingdom and the United States). Also, there will be additional C.O.D. charges of £ 7.50 € 10.00 $ 14.00, and in some countries the local Mail Office will add some further charges.
4)
Advance payment, via bank transfer: we will mail you a proforma invoice with the necessary bank details, and you will receive the goods a few days after receipt of the funds.

Cancellation Right: If you return the goods within 14 days from receipt, you will receive full refund. Please understand that in case of returns and exchanges the accruing return postage cannot be refunded.

Privacy and Security: We do not pass on your personal information to others. Your e-mail address is used only to inform you during the normal order process, or to send requested information. You enter your personal data into our SSL secured form.



Navigation

See Catalogue: Click "Theme" from the lefthand menu. If not all menu items fit onto your screen, click "Theme" again, and the order of the items is reversed. You will find special offers by clicking the "Price range" link.

Quick Search: key in your search string into the search field on top of the lefthand menu and press Enter or click the adjacent button. The best results are obtained with brief, simple words ('cows' or 'beer').

Novelties: Generally you will find novelties by clicking the "Other" link. To get all the articles added to our range after a certain date (e.g. your last visit), just enter that date into the search field on top of the lefthand menu (preferably in the form "mm/dd/yyyy") and press Enter or click the adjacent button.

Attention Loading Time: Menu items marked with a little clock lead to pages with large content which takes some time to load.

To Order: A click on Order on top left of our site (or Shopping Cart on top right) will take you to our order form: Fill in your details and dispatch the form by clicking the button "Send".



Product Information: Tie Bars

Metal: our tie bars are from various metals or compounds, coated with Rhodium and/or gold.

Form: if not indicated otherwise (e.g. tie slides), our tie bars are equipped with a stable crocodile clip (tie-clips).

Packaging: the tie bars normally come in stable, transparent plastic gift boxes.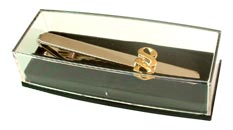 Contact Information

Address: linefeed GmbH, Ertlstrasse 3, 2.OG, 4560 Kirchdorf, Austria.

E-Mail: shop@linefeed.net

Tel: +43-7582-60724

Fax: +43-7582-60724-20

VAT Number: ATU46641004

Register of Commerce: FN 170364k, HG Vienna



Linefeed No.1 in Fancy Ties and Accessories.
Home | Information | e-Mail